Rolling Hills Asylum - Shadow Hallway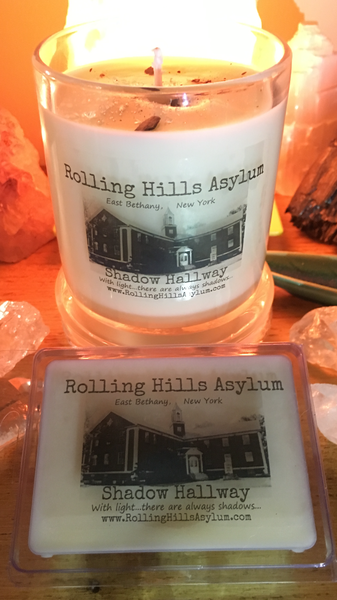 Rolling Hills Asylum - Shadow Hallway
Rolling Hills Asylum's 'Shadow Hallway'


Looking for a unique gift item for that someone special who enjoys Rolling Hills Asylum in East Bethany, NY? We are excited to introduce their very own signature candle scent, Shadow Hallway, created for Rolling Hills Asylum. This is a 12 oz jar, 100% soy candle, topped with Selenite and small pieces of roof slate from the building! Shadow Hallway's distinctive scent melds wood embers, clove, amber and sandalwood. A perfect combination to evoke memories of ghost stories around a campfire!
**All candles are hand-poured in small batches that can take 3 to 5 days to ship**
CAUTION: Never leave a candle burning unattended. Certain candles contain crystals, herbs and pine cone that could potentially 'spark' or crack the glass. Always burn your candles and tea lights on a fireproof dish or holder away from other items. Please melt your wax tarts on a wax melt warmer specifically designed for this use.